Geneva, known as the "Capital of Peace," is not only famous for its diplomatic prominence but also for its enchanting beauty. Nestled between the snow-capped peaks of the Alps and the sparkling waters of Lake Geneva, this Swiss city offers a magical winter experience. December is an ideal time to visit Geneva, as the city comes alive with festive cheer, enchanting decorations, and a host of winter activities. In this article, we will guide you through the top attractions and experiences to make the most of your visit to Geneva in December.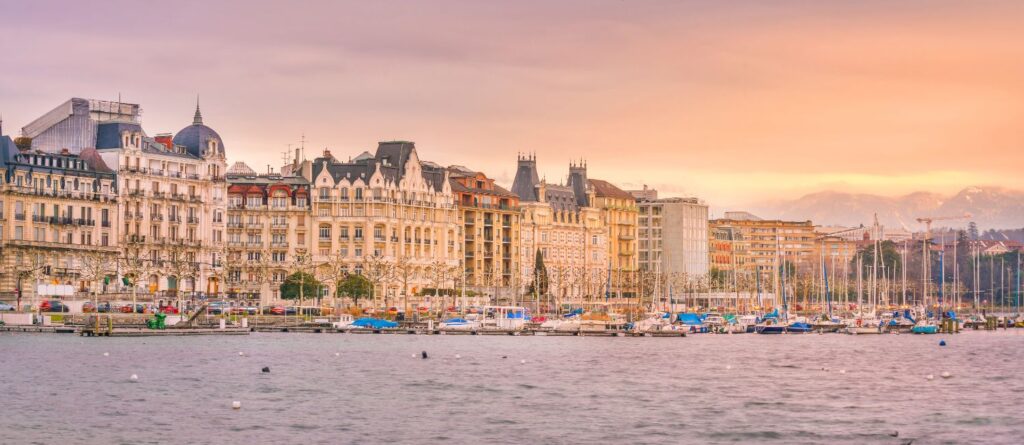 Stroll through the Old Town: Begin your journey by exploring Geneva's charming Old Town, known as Vieille Ville. Its narrow, winding streets are adorned with festive lights and decorations during December. Marvel at the well-preserved architecture, visit St. Peter's Cathedral, and discover hidden gems in the small boutique shops. Warm up with a cup of traditional Swiss hot chocolate or mulled wine from one of the cozy cafés along the way.
Discover the Jet d'Eau and Lake Geneva: A visit to Geneva is incomplete without witnessing the iconic Jet d'Eau. This colossal water fountain shoots water 140 meters into the air and is a sight to behold, especially when it's illuminated during the evening. Take a leisurely walk along the promenade by Lake Geneva and enjoy the tranquil beauty of the lake surrounded by snowy landscapes.
Explore Museums and Cultural Institutions: Geneva boasts an impressive array of museums and cultural institutions that are perfect for winter exploration. The International Red Cross and Red Crescent Museum offers an immersive experience, shedding light on humanitarian efforts worldwide. The Museum of Art and History showcases a vast collection of art and artifacts, including works by renowned artists. Don't miss the Patek Philippe Museum for a fascinating journey through the history of watchmaking.
Experience Winter Sports: For adventure enthusiasts, Geneva provides easy access to several excellent winter sports destinations. Just a short drive away, you'll find ski resorts such as Les Gets, Morzine, and Chamonix, where you can indulge in skiing, snowboarding, and other snow-related activities. Take in the breathtaking alpine scenery as you glide down the slopes and enjoy the crisp mountain air.
Visit the Christmas Markets: Geneva's Christmas markets create a truly magical atmosphere during December. The most prominent market is the Montreux Christmas Market, situated about an hour away from Geneva. Here, you can wander through the charming chalet-style stalls, offering handmade crafts, local delicacies, and warm beverages. In Geneva itself, there are smaller Christmas markets, including the Bain de Noël by the lakeside, offering unique gifts and festive treats.
Attend Festive Events: December is a time of celebration in Geneva, with numerous festive events taking place throughout the month. The Escalade Festival commemorates the city's victory against the Duke of Savoy and features parades, historical reenactments, and traditional music. Enjoy classical concerts, ballet performances, and theater productions at venues like the Grand Théâtre de Genève or the Victoria Hall.
Indulge in Swiss Cuisine: Geneva offers a culinary paradise for food enthusiasts. Warm up with hearty Swiss dishes such as fondue, raclette, and rösti. Explore traditional chocolate shops and sample exquisite Swiss chocolates. Don't forget to try the local specialty, the "Bûche de Noël," a Yule log-shaped dessert typically enjoyed during the holiday season.
Visiting Geneva in December is an unforgettable experience, as the city transforms into a winter wonderland with a festive ambiance. From exploring the enchanting Old Town to participating in winter sports and immersing