Geneva, the picturesque city nestled on the shores of Lake Geneva, is a jewel in the crown of Switzerland. Renowned as the diplomatic capital of the world, Geneva also possesses a captivating blend of natural beauty, cultural heritage, and a vibrant cosmopolitan atmosphere. This article takes you on a journey through the enchanting tourist attractions, cultural treasures, and outdoor adventures that await visitors in Geneva.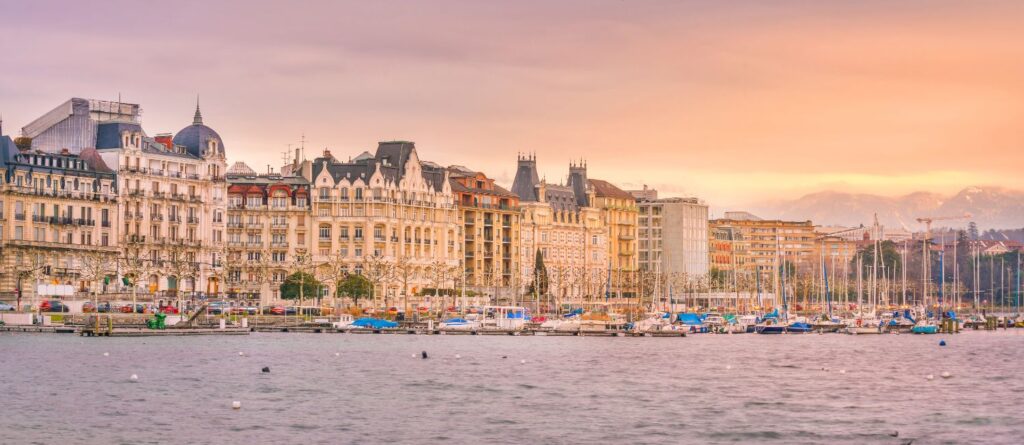 Rich History and Cultural Heritage: Geneva boasts a fascinating history that dates back over two millennia. The Old Town, a maze of narrow streets and charming squares, is a testament to the city's rich heritage. Prominent landmarks include St. Peter's Cathedral, a magnificent Gothic cathedral, and Maison Tavel, the oldest house in the city that now houses the Museum of Geneva's History. The International Red Cross and Red Crescent Museum is another must-visit, offering profound insights into humanitarian efforts.
International Organizations and Diplomatic Legacy: As the European headquarters of the United Nations and the birthplace of the International Red Cross, Geneva holds significant diplomatic importance. Visitors can explore the Palais des Nations, the European headquarters of the United Nations, and take a guided tour to witness the global diplomatic hub in action. The Broken Chair sculpture, symbolizing the campaign against landmines, is a powerful landmark in front of the Palais des Nations.
Lively Lake Geneva: Lake Geneva, with its crystal-clear waters and breathtaking Alpine backdrop, is a defining feature of Geneva's landscape. The lake offers numerous recreational opportunities, from leisurely boat cruises to thrilling water sports. Exploring the Jet d'Eau, the iconic water fountain shooting up 140 meters high, is a quintessential Geneva experience. Parc La Grange and the English Garden provide idyllic spots for picnics and leisurely strolls along the lakefront.
Cultural and Artistic Delights: Geneva embraces a vibrant cultural scene, with numerous museums, art galleries, and theaters to explore. The Musée d'Art et d'Histoire, one of Switzerland's largest museums, houses an extensive collection of art, archaeology, and applied arts. For music enthusiasts, the Grand Théâtre de Genève and the Victoria Hall host an array of world-class opera, ballet, and classical concerts throughout the year.
Gastronomy and Culinary Experiences: Geneva's culinary scene is a delightful fusion of international flavors and local delicacies. From Michelin-starred restaurants to cozy cafés, the city offers a diverse range of dining options. Visitors can indulge in Swiss specialties like fondue and raclette or explore the global gastronomic landscape through international cuisines. Don't forget to sample the world-famous Swiss chocolates and pastries, which are an absolute treat for the taste buds.
Outdoor Adventures and Natural Beauty: Surrounded by the majestic Swiss Alps, Geneva serves as a gateway to breathtaking natural landscapes. Outdoor enthusiasts can embark on hiking trails in the nearby Jura Mountains, indulge in skiing or snowboarding in winter, or take scenic drives to explore charming Alpine villages. The Salève, a mountain located just across the French border, offers panoramic views of Geneva and the surrounding region.
Conclusion: Geneva, with its timeless charm, offers an enticing blend of history, culture, natural beauty, and international allure. Whether you're fascinated by diplomacy and international organizations or seeking outdoor adventures and culinary delights, Geneva has something to captivate every traveler. With its welcoming atmosphere, stunning landscapes, and rich cultural heritage, Geneva promises an unforgettable tourism experience that will leave visitors longing to return and explore its treasures once more.