Lausanne is the second largest city in the French-speaking part of Switzerland.
The city particularly excels in the following 4 areas:
Sports
Sustainable development
Culture
Research and education
Despite its relatively small size (around 130,000 inhabitants), Lausanne offers a wealth of attractions, gastronomy and culture. There are also plenty of opportunities for shopping, wellness and sport, as well as a vibrant nightlife.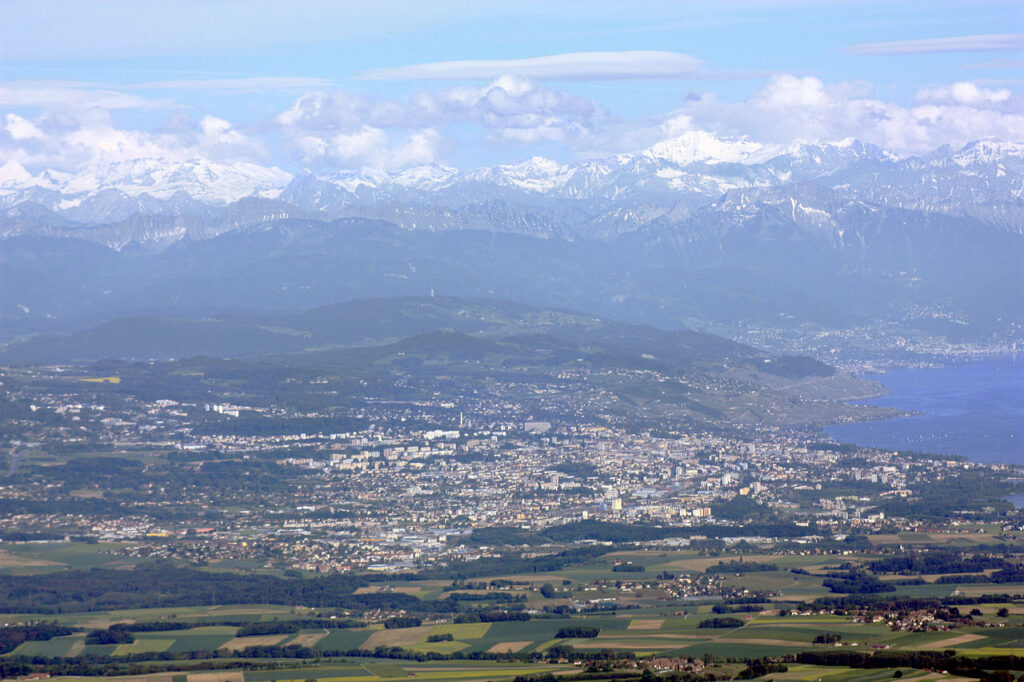 Transportation
Lausanne is located in the heart of Europe, which offers numerous options for traveling to and from the city. Lausanne is also less than an hour's drive from Geneva International Airport, making the city very easily accessible from distant destinations.
Locally, Lausanne's location is also quite favorable, for example:
Sail to Evian in France in 39 min
Travel by train or car to the nearest ski resort in 1 hour (there are more than 10 ski resorts that are less than 2 hours drive from Lausanne)
Be in Milan, Italy in 3 hours and 21 minutes (via train)
Be in Paris, France in 3 hours and 42 minutes (via train)
Get to the German-speaking part of Switzerland in under 40 minutes (by car or train)
Fly to Copenhagen in about 1 hour and 40 minutes
Read more about the possibilities on sbb.ch
Public transport
The public transport network in Lausanne is very dense and constantly evolving. The city's second metro line, the M2, was completed in 2008 and is quite unique in global public transport, being able to travel up gradients of up to 12%.
If you are staying in a hotel, you can ask for a Lausanne Transport Card at reception, which gives you free access to public transport for the duration of your stay.
Early in the morning or late at night, you can also call for taxi buses, which are cheaper than regular taxis.
There is also the rentrez futé service, where a driver will take you home in your own car if, for example, you are too tired or have had a few drinks. Finally, of course, there is also Über.
Lausanne can also be visited on foot or by bike, although you should be prepared for some gear changes due to the city's many hills. There are also city bikes that can be borrowed free of charge.
Accommodation in Lausanne
With more than 5,000 beds from 1 to 5 stars in just over 60 hotels and hostels, there are plenty of accommodation options in Lausanne. However, you should be aware that prices for overnight stays in Switzerland are generally among the highest in Europe, which of course can also be felt in Lausanne. See a more or less complete list of hotels in Lausanne here
Most exclusive accommodation
The 3 most exclusive hotels in Lausanne are:
Cheapest accommodation
The absolute cheapest accommodation is available at the 3 campsites:
Gastronomy
In Lausanne, there are around 320 restaurants in total, offering cuisine from almost every corner of the world. Local products (produits du terroir) are generally very much used in Lausanne restaurants and although it is mainly the older establishments that devote themselves to these products, depending on the time of year, they are often found in many places. An example of this is the famous dandelion salad, Salade Dent-de-lion, which is only available in spring around May.
With food, it is recommended to try one of the many local wines (especially white wines are recommended) such as a chasselas from one of the local vineyards in Lavaux or La Côte, or from one of the town's 5 vineyards (Château Rochefort, Abbaye de Mont, Clos des Moines, Burignon or Clos des Abbayes).
Most restaurants serve hot food between 11.30 – 14.00 and 18.30 – 23.00. Since September 15, 2009, smoking has been banned in all of the city's pubs, although some establishments have smoking rooms or terraces for this purpose.
Michelin stars
Lausanne is home to 3 Michelin-starred restaurants:
Also worth a mention for its traditional cuisine and atmosphere is the Pinte Besson, founded in 1780 and still operating as a restaurant and bar.
Lausanne nightlife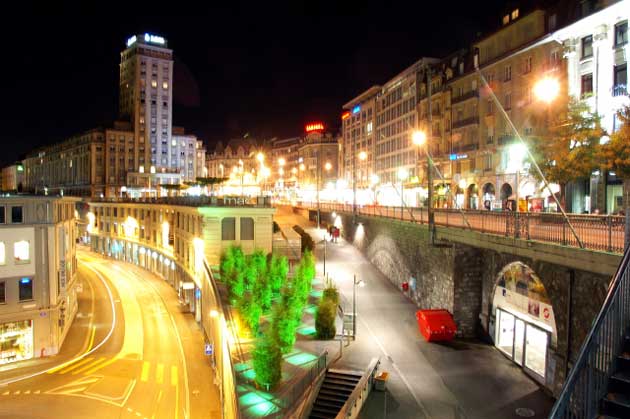 Since the 90s, the phenomenon of clubbing (which really just means going out/going to a disco) has been an essential part of Lausanne's nightlife. There is a relatively large variety of bars, discos, lounges, concert halls and other music venues in Lausanne. The legendary MAD club attracts DJs and musicians from all over the world and was voted the best disco in Switzerland in 2010.
On Place Benjamin-Constant, the 3 bars L'étoile blanche, Café Saint Pierre and Happy Days create a great synergy during the evening and night hours. In addition, the Flon neighborhood with its many bars, restaurants, galleries and discos (including the MAD club mentioned above) is worth a visit.
There are also over 30 night buses (Le Service Pyjama) from the city center every Friday and Saturday night (including 31.12).
Shopping and markets
Lausanne is a great place for shopping; the old town as well as the newer parts are packed with all kinds of shops and boutiques. In recent years, the small district of Flon – originally a river and later an industrial district with warehouses – has become a modern shopping district. In addition to shops, Flon is home to restaurants, bars, discos, cinemas, galleries and other businesses.
There are also a number of markets in Lausanne:
Permanent market: every Wednesday and Saturday from 8:00 to 14:30, the streets of the city center are transformed into long markets where you can buy local products (especially flowers, fruit and vegetables, bread, cheese, sausages and meat)
Christmas market: Throughout the month of December, there is also a Christmas market, with its small wooden huts spread over several of the small streets and squares in the city center. Other markets in the city
Flea market: Every Thursday from 9:00 to 19:30, there is a flea market in Place Chauderon
Craft market: The first Friday of every month from March to November and the first 3 Fridays of December, there is a craft market in Place de la Palud from 9.30 to 19.00
By the lake: Every Sunday from 8:00 am to 8:00 pm from March 31 to September 29, there is a market in Ouchy
Pully: Every Friday morning from 6:00 to 13:00 there is a market in the district of Pully
Culture in Lausanne
The density, diversity and range of cultural institutions and events in Lausanne far exceeds the size of the city. Today there are 23 museums, 22 galleries, as well as numerous theaters, art scenes, art and dance schools, etc. The newly renovated opera, the Béjart Ballet Lausanne, and the BD-fil comic strip festival also help to highlight the city's cultural side.
The Lausanne Estivale and Festival de la Cité events also offer around 600 different shows, most of which are free.
Sports
Lausanne's geographical location allows for water sports (due to the Lac Leman lake) as well as skiing, hiking and mountaineering (due to its proximity to the mountains). In addition, there are plenty of cycling routes for mountain biking (which is a very popular sport in Switzerland) and horseback riding.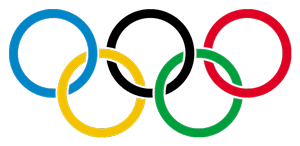 About a century ago, Pierre de Coubertin founded the headquarters of the International Olympic Committee (IOC) in Lausanne
In 1994, Lausanne was named the Olympic Capital (Capitale Olympique)
The Olympic Museum in Lausanne attracts more than 200,000 visitors a year
Lausanne is the headquarters of more than 40 Olympic institutions and sports federations
Lausanne hosts numerous sporting events (World Gymnaestrada, Athletissima, etc.)